Home
Eating Disorders
Chemical Dependency
Mood Disorders

Contact Information
I have worked in the mental health field since 1984, with a wide variety of populations and treatment programs. These have included in-patient psychiatric units, family therapy agencies, medical hospitals, chemical dependency programs, partial hospitalization and day-treatment programs, school counseling programs, and private practice.
My therapeutic approach is one of in-depth psychodynamic psychotherapy. Some clients find that using art therapy as a component of the treatment allows greater access to core issues. For many clients the art therapy becomes a valuable means of discovering untapped inner resources and provides a bridge from the unconscious to the conscious. The art therapy modalities include cartooning, collage, three dimensional work, pastels, sculpture, murals, mask-making, and sand tray.
Not all clients choose to include art therapy in their treatment, and those who do are not required to have any previous art experience.
I work with a wide range of issues including depression and anxiety, eating disorders, trauma, chemical dependency, bipolar disorders, family conflict, job stress, adult-children and parent issues, grief and loss, and life stage transitions. Because the therapeutic relationship can provide a microcosm of a client's interpersonal dynamics, I pay as much attention to the process of the psychotherapy as I do to the content. I focus on the reclaiming of cut off feelings in the service of building a solid self.
What Is Art Therapy?
Art Therapy is a specialized form of treatment in which clients create artwork that is used to discover and explore issues causing emotional distress. By utilizing a structured art process that is specifically designed to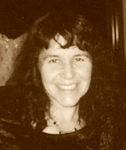 access a wide range of problems and concerns, clients are able to gain insights that contain keys to struggle, conflict, and hope. The art is created either during the sessions or at home, and is an integral part of the treatment. The feelings that arise from the art work are explored verbally with the therapist, and form the foundation of the therapeutic process.
Previous art experience is not necessary.
My office is located at:
1676 Solano Avenue
Berkeley, CA 94707