Art Therapy and Obesity

A Personal Perspective

Joan was a 42 year old woman who was about one hundred pounds overweight. Despite a range of health-related problems, including knee trouble and diabetes, she was not able to stick to any weight loss program for more than a few months. "When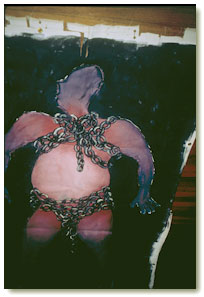 ever I start to look and feel better, it's as if I sabotage myself".
We used a variety of art therapy modalities to explore what might be contained in the self-sabotage. Joan was both intrigued and frightened by a body outline project I suggested, and it was only after many months of acquiring trust in our relationship, did she feel ready to try it. She had a close friend outline her body on mural paper, and then in the art therapy sessions she used collage to express the emotions that she was experiencing in various parts of her body. When she got to her stomach she was shocked to find herself pasting down a photograph of wild dogs tearing apart a rabbit. As she worked with the image she tearfully shared with me a traumatic memory of herself at age eleven being held down and fondled for several hours by her fifteen year old brother and a group of his friends. She never told anyone about the molest because "I idealized my brother and was afraid he would shut me out if I got him into trouble".
Shortly after this trauma she began to put on weight, and began a thirty year cycle of binging and dieting. Her use of food helped her manage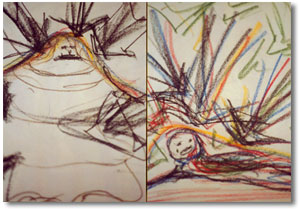 the overwhelming emotions of the trauma, and eventually the predicating event was blocked out as her preoccupation with food and weight took center stage.
Joan and I did much healing and reparative work around the molest, and gradually she was able to lose weight without being overwhelmed by a sense of extreme and unbearable vulnerability. The art therapy component of our work was crucial to her being able to reclaim the emotions of a trauma that had necessitated the development of a protective shield. When she was able to tolerate the vulnerability of weight loss, we used art therapy to help her find ways to discover forms of self-nurturing that were healthy and life-affirming.
Previous art experience is not necessary.